Kuroyagi Shiroyagi Tsushin
Kenta Anzai, Keigo Kamide, Yuko Sawaya, Mai Miyake, Takuya Yokoyama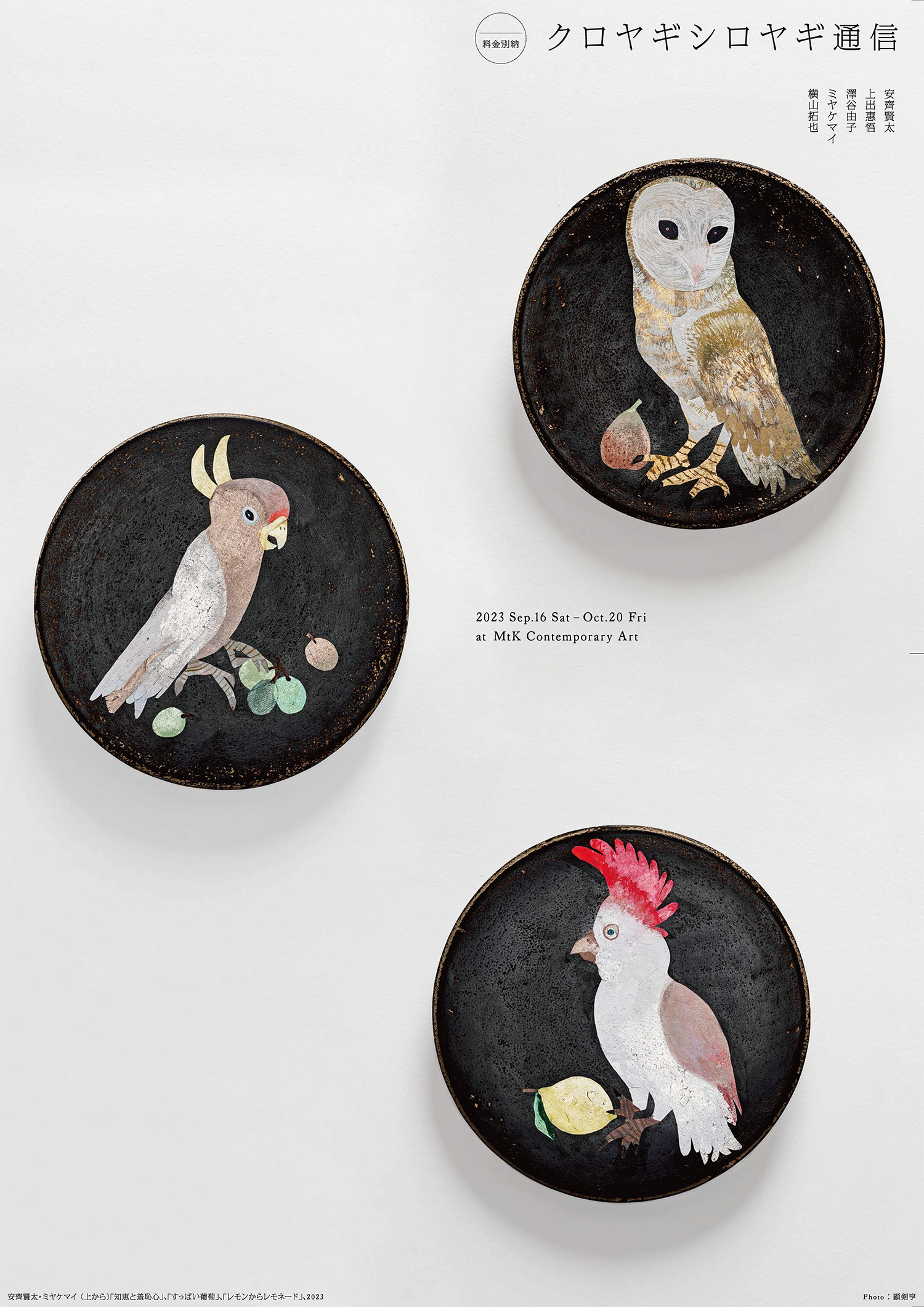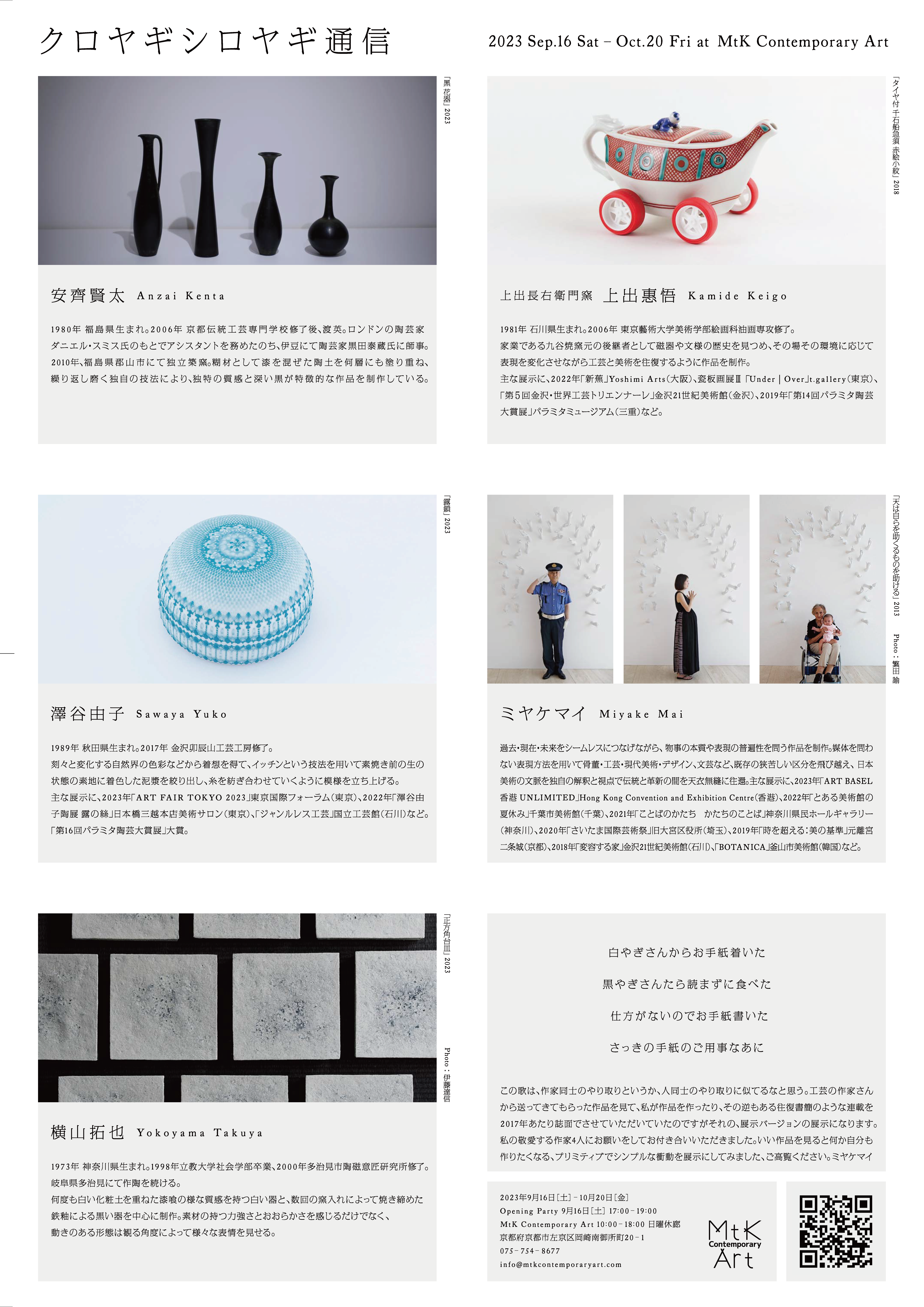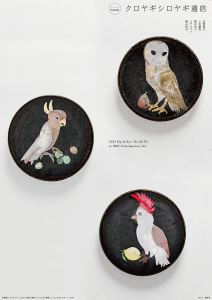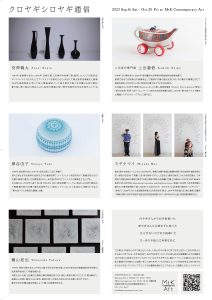 MtK Contemporary Art is pleased to announce to hold the group exhibition "Kuroyagi Shiroyagi Tsushin" - Correspondence Between Black Goat and White Goat. This will present the latest works by five artists: Kenta Anzai, Keigo Kamide, Yuko Sawaya, Mai Miyake and Takuya Yokoyama, those who actively work mainly in the field of Craft.
Anzai Kenta|
Born in 1980, Fukushima, Japan.
After the graduation from Traditional Art of Kyoto in 2006, worked for Daniel Smith in England and later Taizo Kuroda in Izu.  Opened his studio in Fukushima in 2010. 
Using Japanese lacquer as glue and several rounds of polishing- his original process creates unique texture and symbolic deep black color.
Kamidechoemongama Keigo Kamide|
Born in 1981 Ishikawa, Japan. Earned BA in oil painting from Tokyo University of Art in 2006 then joined Kutani Choemon, his family-owned Kutani ware manufacturer founded in 1879. As a 6th generation successor, the artist has been working with artisans to create various projects and products with flexible ideas unconstrained by tradition, breathing life to Kutani ware to appeal to modern living. 
Major exhibitions include "Shinbu" Yoshimi Arts, Osaka, "Under | Over"t.gallery, Tokyo, "The 5th Triennale of Kogei in Kanazawa"21st Century Museum of Contemporary Art, Kanazawa and "The 14th Paramita Togei Award" Paramita Museum,Mie.
 Sawaya Yuko|
Born in 1989, Yokohama Japan.
The Artist creates fine threadlike patterns using blue glaze and the itchin technique that involves squeezing out "deisho" (clay mixed with water) or glaze from a tube onto the surface of the porcelain to form embossed patterns. 
Major exhibitions include "ART FAIR TOKYO 2023" Tokyo International Forum, Tokyo, "Sawaya Yuko solo show Tsuyu no Ito" Nihonbashi Mistukoshi Art Salon, "Genreless Kogei" National Ceafts Museum, Ishikawa. Won the grand prize of The 16th  Paramita Ceramic Award.
Yokoyama Takuya|
Born in 1973, Kanagawa, Japan. Earned BA in sociology at Rikkyo University, later learnt ceramics at Tajimi City Pottery Design and Technical Center in 2000. Currently resides in Gifu.
The artist produces mainly white potteries with a plaster-like texture created by repeatedly layering white clay and black potteries with an iron glaze by firing them in a kiln several times. His works bring out the most of materials in texture  and show various expressions with dynamic shapes.
Title

Kuroyagi Shiroyagi Tsushin

Dates

2023/09/16-2023/10/20

Opening reception

2023/9/16 Sat 17:00- 19:00

Artists

Kenta Anzai, Keigo Kamide, Yuko Sawaya, Mai Miyake, Takuya Yokoyama