Yami no iki - the threshold of darkness
Mitsuhiro Ikeda, Kouichi Tabata, Ataru Sato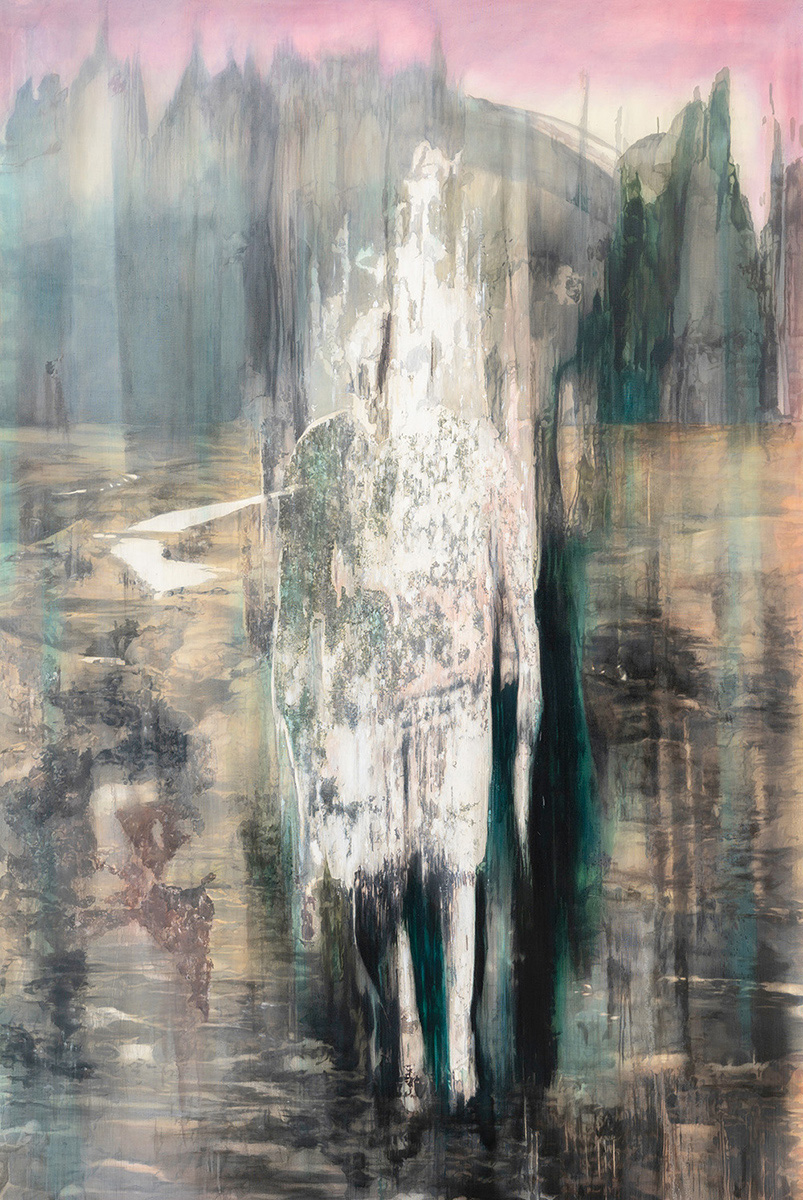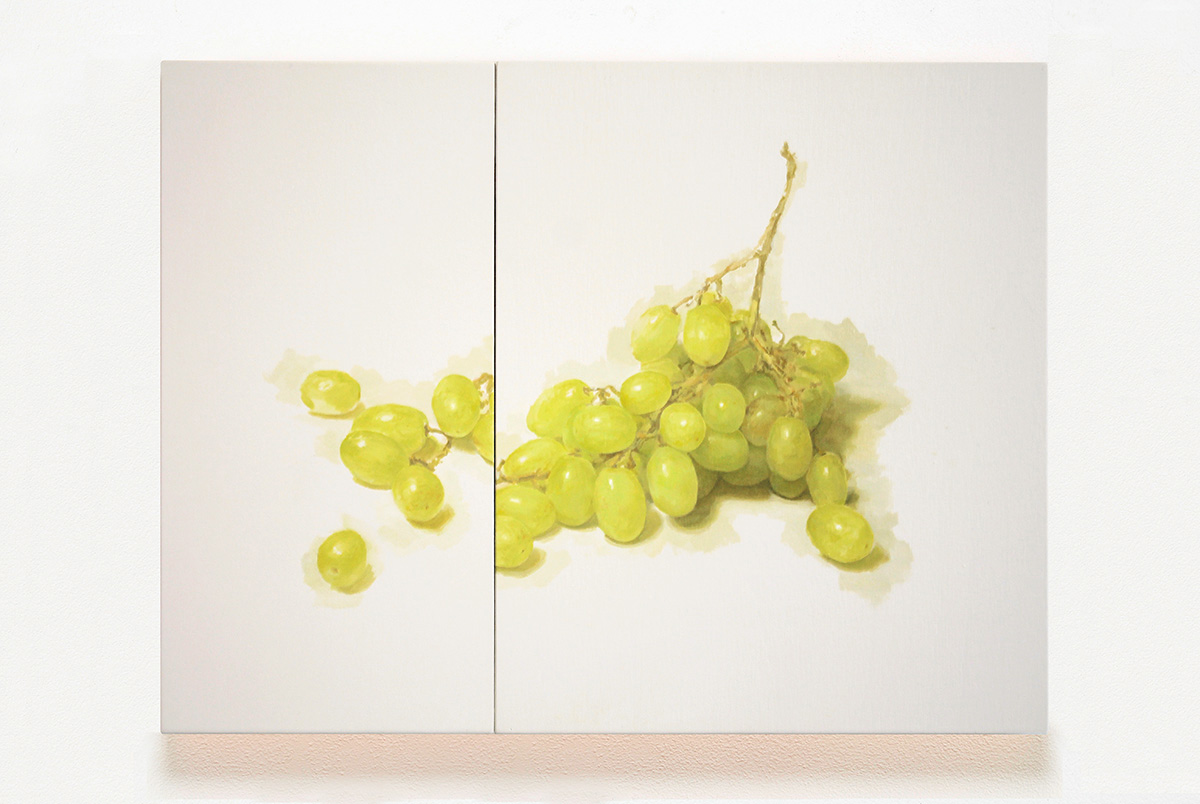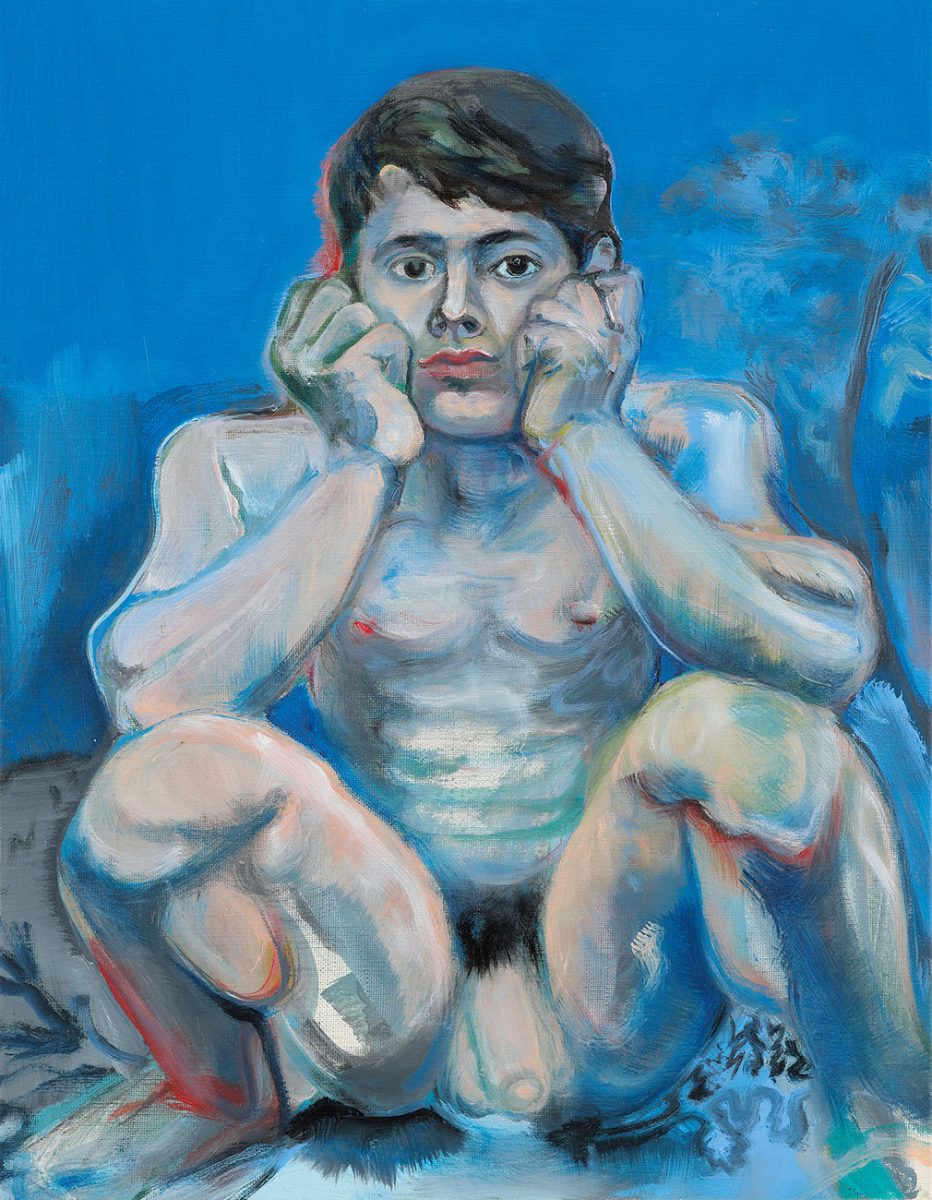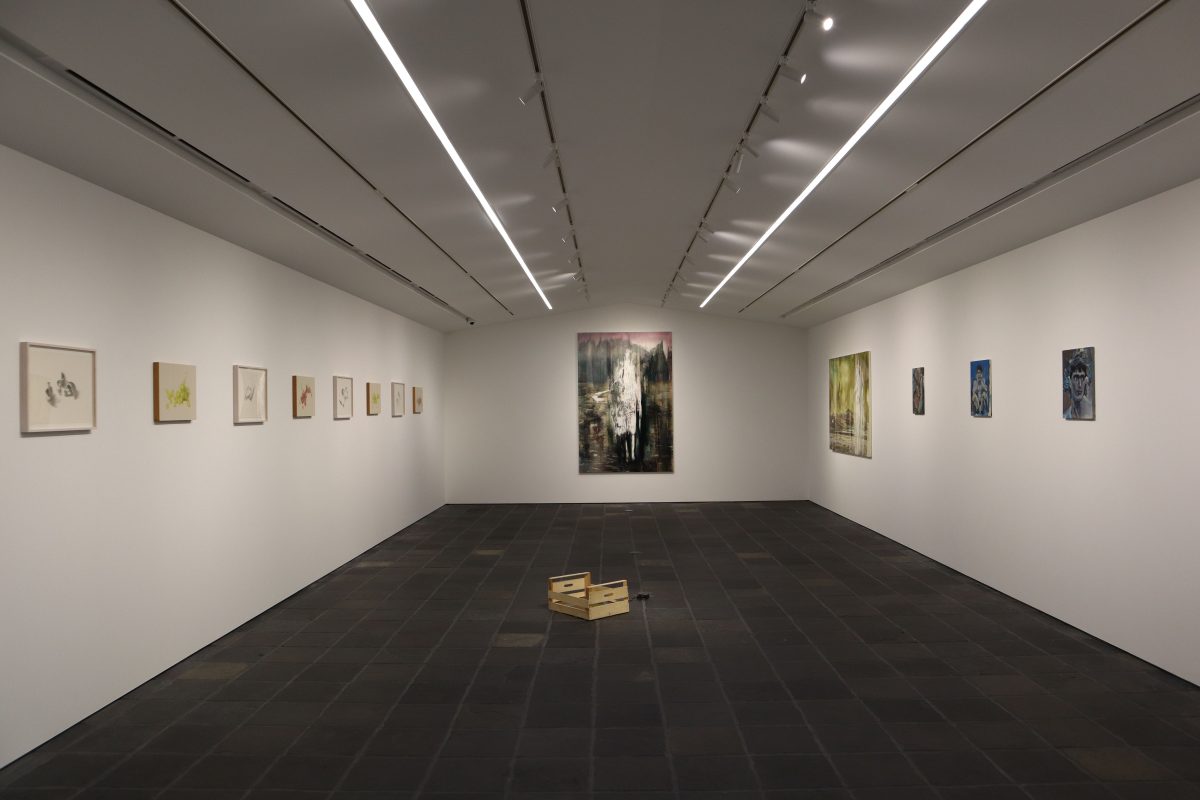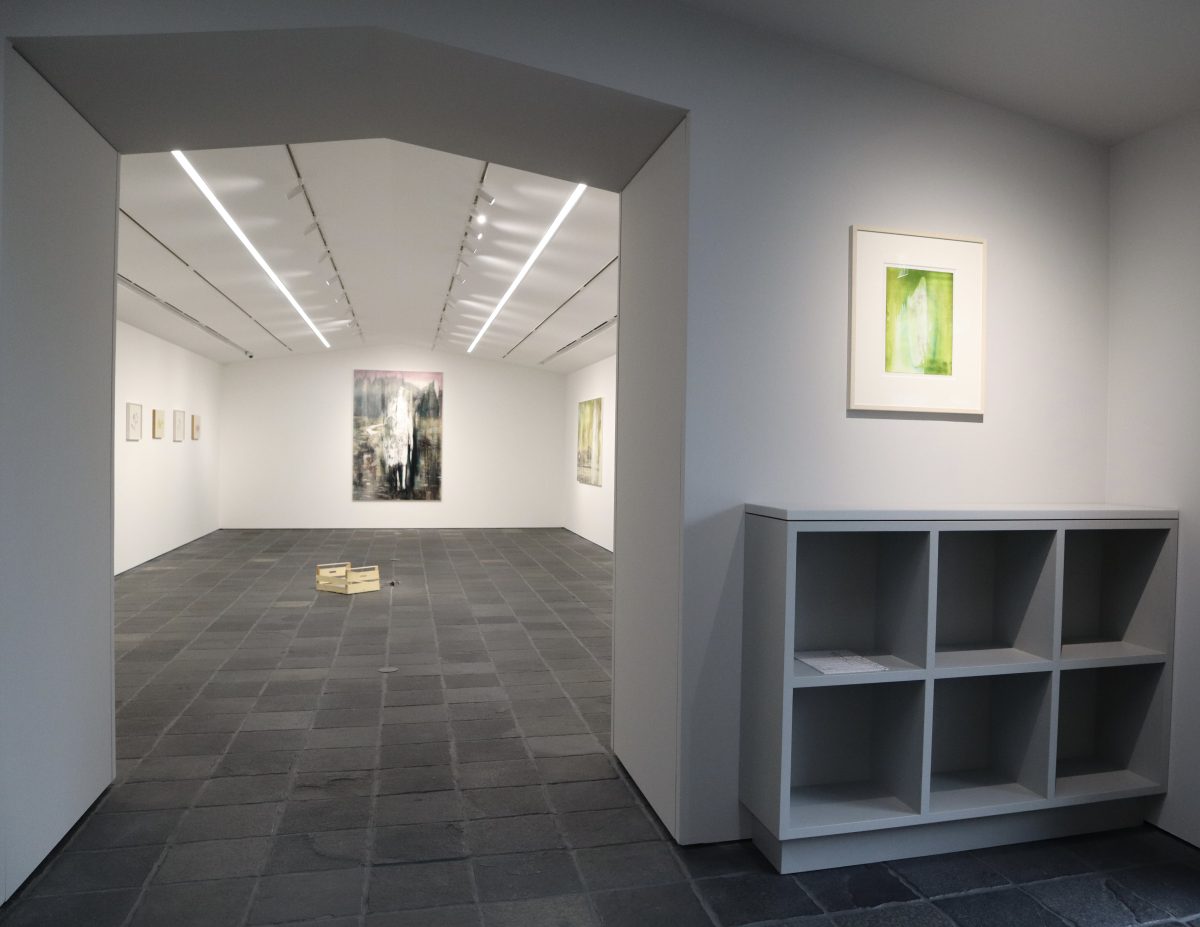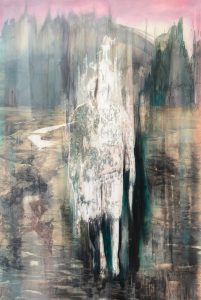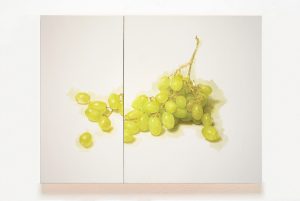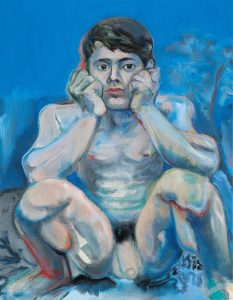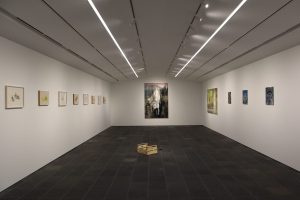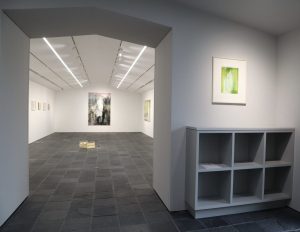 Artwork1: Mitsuhiro Ikeda, untitled (figure no.2), 2022
Photo by Yuki Moriya
Artwork2: Kouichi Tabata, one way or another (muscat grape) #01,2022
Photo by Kouichi Tabata
Artwork3: Ataru Sato, Engel von Wilhelm von Gloeden 1,2022
Photo by Keizo Kioku
"Yami no Iki" is the group exhibition of Mitsuhiro Ikeda, Koichi Tabata, and Ataru Sato.
The title "Yami no Iki" means "the threshold of darkness" in Japanese.

"Windows" are often referred as metaphors of paintings, since "windows" come in rectangular shapes and function as a device to bring in the lights to rooms. Therefore, windows are seen as "frames for lights" and so as paintings. With the understandings of the relationship between "lights" and "paintings", painters would hold up objectives to find ways in which they manage to capture and confine lights within rectangular-framed paintings.
Also, from the physiological point of view, humans recognize materials by processing the light sources through retinas, and thus we are rather seeing the "lights surrounding materials" than "materials themselves". Considering this physiological fact of humans, it is reasonable that "lights" are thought to be one of the key factors of creating paintings that function as visual devices.
The existence of "light" certainly makes us notice about the existence of "darkness", the condition where there are no "lights" and creates blindness. "Darkness" is the element of anti-visual and non-paintings. Hence, the opposition of "light" and "darkness" lies in between the paintings and non-paintings, in other words visual and anti-visual. The recognition of the opposition between "lights" and "darkness" raises the question of possibilities towards capturing the threshold switching from "paintings" to "non-paintings" and "visible" to "invisible," as if shifting from morning to night and lights being consumed by darkness.
These 3 artists represent their own approaches taken toward such question.
Mistuhiro Ikeda
1978 Born in Hokkaido, Japan
2004 Graduated from Oil Painting Course at Musashino Art University
2006 Finished Post graduate Oil painting Course at Musashino Art University
2017 – Associate professor at Kyoto University of the Arts
Exhibitions
2020 "dawn" Satoko Oe Contemporary, Tokyo
2015 "Portrait of place" Soka Art, Taipei, Taiwan
2012 "location/dislocation" ShugoArts, Tokyo
2010 "GARDEN OF PAINTING – Japanese Art of the 00s" The National Museum of Art, Osaka
Award
2007 "VOCA" Second Prize, The Ueno Royal Museum, Tokyo
2005 "New Art Competition" Hiroshima City Museum of Contemporary Art, Hiroshima
Ataru Sato

1986 Born in Chiba, Japan
2009
Kyoto University of Art and Design, Bachelor of Fine Arts in Information Design,
Advanced Art Course
Solo Exhibitions
2022 "111 / triple one" KOSAKU KANECHIKA, Tokyo, Japan
2020 ".th (Zeroth)" KOSAKU KANECHIKA, Tokyo, Japan
2019 "Ataru Sato" Office Baroque, Brussels, Belgium
2018 "+10" KOSAKU KANECHIKA, Tokyo, Japan
2017 "Courtship" KOSAKU KANECHIKA, Tokyo, Japan
2015 "MAN" Gallery Koyanagi, Tokyo, Japan
2011 "First Love" Gallery Koyanagi, Tokyo, Japan Group Exhibitions
2022 "Chambres d'Amis: IKEA" Office Baroque, Online Exhibition
2021 "Self-History" WHAT MUSEUM, Tokyo, Japan
"Daily Cat Essen" Ruttkowski;68, Paris, France
2020 "Archives of Civilization and Savagery" Sg.rr Dearg Institute for Sociology of the Arts, Tokyo, Japan
2019
"My Name is Tokyo Kai and I am an Artoholic" Contemporary Art Museum Kumamoto, Kumamoto, Japan
"DOJIMA RIVER BIENNALE 2019" Dojima River Forum, Osaka, Japan
"INTERPRETATIONS, TOKYO" Hara Museum of Contemporary Art, Tokyo, Japan
2017 "MEN" Gallery Koyanagi, Tokyo, Japan
"FLEMING FALOON" Office Baroque, Brussels, Belgium
2016 "PREVIEW: A GROUP SHOW OF REPRESENTED ARTISTS" SPACE TGC, Tokyo, Japan
"Jitto" Anne Mosseri-Marlio Galerie, Basel, Switzerland
2014 "Inside" Palais de Tokyo, Paris, France
2013
"Now Japan; Exhibition with 37 contemporary Japanese artists" Kunsthal KAdE, Amersfoort, The Netherlands
"Takahashi Collection ‒ Mindfulness!" Sapporo Art Museum, Hokkaido, Japan
"Takahashi Collection ‒ Mindfulness!" Kirishima open-air Museum, Kagoshima, Japan
2012 "Cosmic Travelers - Toward the Unknown" Espace Louis Vuitton Tokyo, Tokyo
2011 "YOKOHAMA TRIENNALE 2011: OUR MAGIC HOUR - How Much of the World Can We Know?"
Yokohama Museum of Art, Kanagawa, Japan
2010 "The 8th Gwangju Biennale 2010: 10000 LIVES" Gwangju, Korea
"VOCA 2010: The Vision of Contemporary Art" The Ueno Royal Museum, Tokyo, Japan
Public Collections
Louis Vuitton Malletier, Tokyo, Japan
Miyanomori International Museum of Art, Sapporo, Japan
Spencer Museum of Art, Kansas, USA
Takahashi Collection, Tokyo, Japan
Kouichi Tabata
1978 Born in Tochigi, Japan
2004 B.A in Intermedia Art, Tokyo University of the Arts
2006 M.A in Oil Painting, Tokyo University of the Arts
Currently based in Berlin, Germany
Solo Exhibitions
2018 "marmelo and the two sides" (Yutaka Kikutake Gallery, Tokyo)
2016 "one way or another" (Gallery Koyanagi, Tokyo)
2015 "Scape" (Daiwa Anglo-Japanese Foundation, London)
2011 "trace of images" (Gallery Koyanagi, Tokyo) Group Exhibitions
2017 "Art Meets04 Kouichi Tabata/Saori Miyake" (Arts Maebashi, Gunma)
2015 "Drawing Biennial 2015" (Drawing Room, London)
2014 "Temporal Measures" (White Rainbow, London)
2013 "THE ECHO – SPREADING OF LIGHT" (Japanisches Kulturinstitut Köln, Germany) Public Collection
Museum of Contemporary Art Tokyo (Tokyo)
Toyota Art Collection (Aichi)
Hara Museum of Contemporary Art (Tokyo)
Title

Yami no iki - the threshold of darkness

Dates

2022/06/18-2022/07/31

in cooperation with

KOSAKU KANECHIKA、Satoko Oe Contemporary、Yutaka Kikutake Gallery

Opening reception

2022/06/18 17:00-20:00

Artists

Mitsuhiro Ikeda, Kouichi Tabata, Ataru Sato